Unless stated, click on the thumbnails to view larger images.

The Mystery Machine, Death Star, Dudbot, Minion, Y-Wing, Bionic Repair and Who Street models are for non commerical useage only. All the other files on this page are free for use in both commerical or non commerical images, projects, animations etc etc.

If you wish to use any part of these files (excluding the mystery machine, deathstar, dudbot, pickup, minion and bionic repair) in commerical poser products please contact me.

Can't download a file? Please let me know.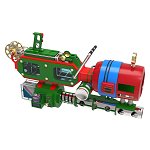 Super [Seasonal] SteamPunk Shooter

For well over 10 years the professional idiot behind Sparkyworld has had an tradition of giving out a free 3D goodie around the xmas period. So despite a slight delay caused by a Christmas Lurgie, here's the 2017/2018 freebie....

Download - 4.2mb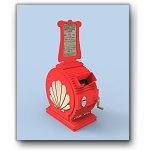 Digital Mutoscope

See what the Butler saw ... as well as a free 3D download, in Poser & Studio formats, this is also a fully working real world machine....

Download - 3mb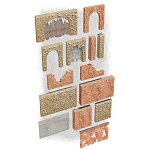 Castle Walls

Here's another freebie thats escaped from the dark recesses of my hard drive.
This time the "Proof of Concept" Set for a product.

The original idea behind this one was a script (written in Perl By Kastaway) would create a series of prop walls, arches, columns and roofs. The really clever part was that the script would create meshes where each part had a random and unique pattern of modelled rocks or bricks.

The second design aspect is each prop only has 2 material zones [walls/rock] or [mortar/brick], which reduces system load and allows the artist to easily apply high or low resolution textures (lo-res supplied). Which also gives the artist the abilty to make very quick changes.

Download - 3.2mb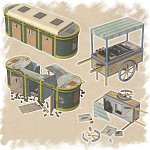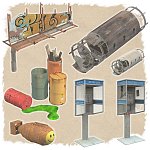 Ruined City 2: Sci-Fi - The Accessory Pack


(RC-2) Ruined City 2: Sci-fi was meant to be the follow up for the popular Ruined City set. Much like the 1st city set, the idea was that most of the things in RC-2 would come in 2 flavours. One "clean" and one "trashed" model.

But as 3d people know, sometimes projects just don't work out, things get consigned to a dusty corner of our hard drives and get forgotten about it. Which is what happened here, until by luck these models where re-discovered.

Obviously this freebie isn't a complete ruined city, but instead heres all the nice diverse stuff that was modelled from the original concept...



Download - 16.8mb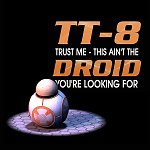 TT-8

Are you a wannabe dictator? Do you want to have more time for the fun stuff in life?

Then outsource your evilness with your own despotic droid. Created by SparkyTron Industries, this sphere of sleaze comes with loads of useful features, including...

Discover More & Download


BugMobile

Budge over Batbloke.. shift over SpideyGuy... theres a new SuperHero in town ..Well his car!

Yep thats right inspired by the 60's TV series Batman, here's the worlds 1st BatMobile for Chihuahuas.

Avaliable as both a real world model for dogs and a 3D poser prop.

Download 969k


Sparkys Shower System

It's hard work being an international jetsetter, so keep yourself germ free and happy with this handy set of bucket (with holes) and bed.

Please note you'll need to supply your own tissues and liquids.

Download 969k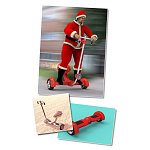 Seasonal Sci-Fi Freebie

The slightly delayed 2016 Christmas/New Year Freebie, the Santa Scooter.

It's not just for xmas either, this model is suitable for all year round use and comes with a seperate hoverboard version.

Download 1.21mb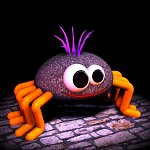 Toon Spider

This one climbed up a water spout and refused to come out until he'd had his mince pies, but despite the wait, he's still great fun for your toon scenes.

Download 1.21mb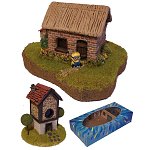 Modelling Handbook

A 12 Page A4 booklet originally created for a Art Gallery workshop. This briefly covers 3D to 2D conversion as well as featuring loads of ideas and traditional modelling tips.

Download 2.50mb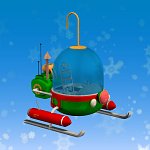 Seasonal Pod

The 2015 Winter/Christmas Freebie, it's how Santa, Old Father Time and the New Year Baby gets around if Rudolph...

Download 2.10mb


Xmas 2014 Freebie

Happy Merry Seasonal Things to everyone! Heres another xmas gift for you, again this one is in both computer and real-world 3d...

Download 2mb


WitchyWoo House

Heres the 2014 Halloween Freebie. This year in both computer 3d and real-world 3d...

Download 1.85mb


Kitchen Stuff

A perfect side dish for the new Sallys's Kitchen Set, heres a toaster, sandwich toaster and foodmixer. Served up in poser prop format and while the Set isn't required for this freebie, it'll make your goodies taste much more sweeter:)

Download 1.52mb



KatWalk

Very simple catwalk model made for Blackbirdx61 in his thread over at R'osity. All the details are on the download page.

Download [305K zip]


SteamPunk Googles

Perfect for your steampunk aviators, a rather nifty pair of highly detailed googles. Well shiny!

Download [707K zip]


Forum ToolKit

It's darn hard work being a professional forumite, so to make sure those uneducated plebs recognise your greatness I've created some new hardware to help you.

Download [2.02MB zip]


Police Surveillance Tower

State spying?
Public Protection?
A quiet place to eat doughnuts?

You decide with this model inspired by the towers seen in New York and other US cities.

Download [1.65mb zip]


SteamPunk StageCoach

An amazingly detailed steampunk poser model with a cool twist! This one is inspired by a fully working replica of Richard Trevthick's 1803 London Steam Carriage, as displayed at the Goodwood...

Download [1.95mb zip]


Old Father Time

Dali meets Disney in this toon style representation of Old Father Time. This curved pocket watch includes modeled traditional cliches of old age and New Year such as....

Download [985k zip]


Slightly Suspect SnowDomes

Once upon a time, it was the night before xmas, all over the house, nothing was stirring not even a mou....apart from SantaSparky with an angle grinder!...

Download [1.86mb zip]


Tinplate Style Xmas Robbin

Includes an Armed Robbin - with gun, swag bag and mean looking attuide. Plus a plain traditional tatty tinplate style Robbin.

Download [915k zip]


Miley Cyrus Style Xmas Wrecking Ball

You'll never see that video in the same way again!

Download [1.68mb zip]




Toilet Racer

For when you really gotta go ...and fast ....you need a racing toilet!

Download [690K zip]


Mr Toastie

Breakfast with a bad attiude!

Static poser prop. Plain toast texture and instructions for changing the face with just 1 font are also included.

Download [1.53mb zip]


Cut-O-Way Xmas Cards

10 Assorted designs for your festive scenes. 8 are standard size, 1 has a semi transparent gel and 1 is slighty taller. All the cards have 100% modelled cutouts not transmaps. Instructions for making your own gels and card templates are also included.

Download [429K zip]


The OddBods

More silliness for Halloween - 4 OddBod models - perfect for fleshing out your toon scenes.

Download [3.37MB zip]


Tremblin' Terrors

Inspired by one of those toys that you lick and it springs up, usually when you're licking the rubber base, heres Mr Sparky's freebie for Halloween 2013 - the Tremblin' Terrors!

Download [3.37MB zip]


FBG - Sci-Fi Gun

The FBG - Flipping Big Gun - scaled to Dawn, though works on any poser figure

Download [2.34MB zip]


Mind Book Chair

The Mind Book Chair, the next generation of social networking device. Made from duralumiun, which protects a gentically crafted nuerosonic steel spine......

Download [1.85MB zip]


Sci-Fi Set With Hi-Res 4K System

This freebie contains both a free sci-fi set and a way that you can create your own hires 4K style images. So no need to spend 4 Grand on a new telly!

Download [995k zip]


SteamPunk Computer - Red Tape Generator

A highly detailed model of a steampunk computer with easily edited labels that turn it into a Fun Red Tape Generator. Comes in 5 parts... One large computer and 4 seperate units.

Download [3.69mb zip]


Tankers Style Sci-Fi Helmet

Inspired by the type of protective headgear used by tank drivers and on aircraft carrier, heres a sci-fi styled helmet. Poser Prop .PP2 that works with all figures.

Download [612K zip]


Rollin' Road - Concept Model

This is an attempt at modelling an animation concept. The scenery rolls 360 degrees around the X axis....

Click below to learn more...

Download [1.58mb zip]


Kitty Kat Kitler Katerpillar Kannon

Ever needed to apply a Kitler Katerpillar to your Kitty Katt?

Well, now you can with the K.K.K.K....

Download [1.1mb zip]


Factory Unit

A small factory unit as found on most industrial estates. Has opening/closing small front door, working roller-door show/hide poses for the footpath area, and easily changeable signage.

Download [2.67mb zip]


Super Lady Danbo

The most acurate female figure ever...kind off..well actually not really.

However it's still free and great fun!

Download [2.26mb zip]


Mad Machine: The Royal Baby Buggy

When one has a royal sprog, one needs the best that money can buy. But for you it's free!

Download [3.43mb zip]


Mad Machine: ToastEVac

The eco friendly way to enjoy your toast and get your housework done.

Download [900k zip]


SWAT Gear Freebie Release for July 1st 2013.

1 Door Entry Ram - which British cops call ...
"The Big Red Key".

1 Protective Riot Shield in 2 flavours. SWAT and Police.

Download [883k zip]





f

The Big One

Inspired by an image posted by RTC-Spanky in a 3d forum, heres an incredibly detailed poser model of an old computer. All the dials and knobs have been modelled so this model is perfect for close up shots.

Download [4.29mb zip]


Retro Super Computer

Once upon a time, in a era before apps, everything had it's place. Where men in white coats earnstly smoked pipes and nerds where safely locked up in garages. Lived ... the Super Computer!

Download [1.40mb zip]


Toppa Cards

A small poser homage to the classic British kid's card game of the 1970/80's "Top Trumps". You can take the lid off, deal the 22 cards and actually play the game!

Download [3.30mb zip]


Deck Chair Freebie & Something Cool

As well as the deckchair model, this download contains some other fun stuff.

Download [2.26mb zip]


Floating Security & V3 Head Cam

Two models, a head based security cam with missile and a standalone floating droid. These are so incredibly detailed and useable in various ways they have their own special page.

Download [1.24mb .zip]


Useful Things #1 Shredder

A home/office desktop shredder complete with modelled "paper jam", wire and plug. The "jam" can be removed, shredder is movable and the plug & wire hidden.

Download [1.24mb .zip]


Dork Launcher

This extra freebie is the model as featured in my Aprils Fool joke 2013. The readme contains additional info.

Download [1.20mb .zip]


Expo Stands & Advertising Stuff

Contains the typical type of small stands you'd find at exhibitions. Plus some thingys like banners and boards you'd see in shopping malls, airports and on the high street.

Download [1.26mb .zip]


Easter 2013 Freebie

After removing the box, you'll be able to enjoy a lovely mockchoc egg. Made with free range polygons, it's gluten free, nut free, fat free and suitable for vegans. Plus contained within is a small fun gift.

Download [1.14mb .zip]


Who Street

For a change heres a fan art model, a medievial street scene from Dr Who. Complete with a few extra props to add details to your renders. Click the thumbnail to see whats included.

BTW - Non commerical useage only obviously!

Download [5.32mb .zip]


Toon Train

My biggest ever freebie release to date is a complete toon train set with a train, rolling stock and a massive variety of accessories.

In fact just over 30 parts, so this model has it's own unique page, where you can see everything in the set and download it.

Download Page


Naughty Chair Of Doom & Prop Head Tutorial

It's hard work being a politician, banker or CEO. All that running around kicking people out of wheelchairs and making millions in bonuses, can make one tired. But don't worry this comfy seat will help.

Plus theres a politicans head - sorry only virtual:) - and a simple tutorial (.PDF) for new users showing how to replace Poser heads with prop heads.

Download [2.33mb .zip]


Terrible Toons: Bad Valentines

2 slighlty tasteless, but very silly, cartoon heart models in static Poser prop (.PP2) Format. Theres Heart Attack - a really crazy one with axe and knife. Plus Heart Failure - one thats had too much.

Please note these are purely fun items, if you feel really down contact the Samaritians

Download [0.99mb .zip]


Warped Wheelies

Whats automatic..systematic..hydromatic ? The warped wheelies of course!

Cop
Boy Racer
Fire Bingine
Mescherbin 109
Paramedic CamBulance

Also features the Simple Street & Motorway props. Plus theres the "Has Bins", for when even wheelies bins find it all too much :) Including Burnie and the 15 Ton Weight.

Click the thumbnail to view them in action, you won't regret it!

Download [6.71mb .zip]


Anime Girl - Kirsten

Created by Chris Schell, this cool free figure has been influenced by many classic artists and movies.

The fully posable figure comes with so many features it's hard to list them all, but for starters, you'll get..

6 Body Shaping Morphs
2 Limb Shaping Morphs
9 Head Shaping Morphs
2 Eye Morphs
9 Facial Expression Morphs
4 Alternate Skin textures & Mat Poses
8 Alternate Eye textures & Mat Poses
2 Conforming Hair Styles with 2 Alternate Textures each
6 Alternate Toon-style Hair Mat Poses

Plus theres a free set of Conforming Clothes. A Sports Top and Shorts and Running Shoes with morphs and textures.

Download - External Site

NB: Large image contains bikini imagery.


Mighty Pen

Whats mighter than a sword, why a pen of course :)

As well as getting a bruiser of a biro, your freebie also comes with a knocked out sword and spinny stars.

Download [807k .zip]


Silly Signs #1

Bad town signs is a Poser prop representing the entrance to Hell. Aka the A259 into Bognor, or more whats more commonly called Satans bottom, after he's eaten a really bad vindaloo.

Download [871k .zip]


Bad Prawn

Inspired by Ron Liesman's cartoons and way too much caffiene. From the genus "cameronrobuspoorus", Pete comes completely tooled up with bovver boots, a shooter, knife, club and broken wine bottle. 6 Models included.

Download [3.1mb .zip]


Scereal Killer

Q. What do you call a cornflake hating teddy bear armed with a chainsaw?

A. Why a Cereal Killer of course! :)

Created as an extra fun bonus for the DSA January Contest: Scream. Goodies as per the big picture (sans bear) plus the really usefull FakeLightFloor prop.

[External Site Link]


Cracked Christmas Freebie #1
Xploding Penguin

Scientists recently discovered this new species of penguin living off a small island close to Wigan Pier....

Download [1.74mb .zip]


Cracked Christmas Freebie #2
Smokin' Sid

Ever wondered what really causes global warming? Meet Smokin' Sid, the snowman with attuide! With flame thrower that fires recycled polar bear farts. Plus helmet in the style of "Full Metal Jacket" with badge and spare carrot noses.

Download [2.68mb .zip]


Cracked Christmas Freebie #3
Bad Santa

If you've been naughty this year, expect a visit from Bad Santa. He pinches xmas pressies from baddies using his tummy sucker, hides them in his copious belly and only gives them back when someone is good.

With rigging by VP and 2 festive shiny colour texture sets created by P3d-Art.

Download [19.8mb .zip]


Santas Jet Bike

When Rudolph, Dasher and Prancer are feeling poorly, Santa has a backup in the form of the Jetbike. Powered by reinder generated methane gas ....

Download [4.16mb .zip]


Y-Wing

The nice people at VP asked if I could clean up and retexture one of their Star Wars models. So I took the model back to poly level and heres the result...

Obviously non commerical/fan art useage only.

[External Site Link]


UnHappy Meal

An extra freebie for Halloween 2012, heres a slime shake, murder burger and bone fries for your monsters to enjoy.

Download [4.16mb .zip]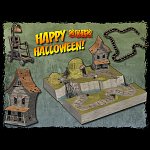 Halloween 2012 Freebie

This years Halloween Freebie is now avaliable. Features an electric chair, track for the chair, witches house and a preset with other fun bits.

Download [8mb .zip]


Obots Set 1

2 Bots that's got nothing at all to do with some minor coporate event:) The Coppa-Bot that protects the Torch-E-Bot (a large mobile ciggy lighter) from naughty people.

Download [2.45mb zip] - site link





Bionic Repair

Inspired by the classic MPC plastic model kit, from the 1970's TV series "The Bionic Woman", here's a small freebie set of a operating theatre styled room.

Contains a fully assembled room set with 2 "computers", lamp and operating table. Plus standalone versions of the computers, lamp, empty room and table.

Download [2.23mb.zip] - site link




The Facility

With lights created by seachnasaigh (most meshes by me), the Facility is the worlds first sci-fi set to use the new "mesh as light" feature for Poser 9 and higher. .PP2 format with an extra P9 .PZ3 scene with everything loaded and ready to rock and roll. Plus full instructions and templates.

Also included is an alternate P4 based version, PP2/CR2 plus extra sections, which works great in other apps including studio, vue etc etc.

Download [30mb .zip] - site link




Easter 2012 Freebie

An easter egg box which contains a free mystery fun freebie. Simply follow the easy to use instructions in the read me and enjoy!

Download [3.78mb .zip] - site link




Big Gong

Inspired by the title sequence of movies made by the Rank Organisation. Heres a big gong, with 2 textures, templates, M3 starter pose and gong-donger.

Download [847k .zip] - site link




Bank Cards

Here's some bank cards for Mike and Viki. .PP2 format, with modelled embossed lettering, .BMP textures, template. Plus if you make models theres also an extra non-embossed free resource card mesh.

Download [2.69mb .zip] - site link




GunHed - Guest Freebie

Another guest freebie by Chris Schell. Based upon on the movie GunHed (Ganheddo), heres a highly detailed transformable Tank/Walker packed with weapons and stacks of working detail.

Please note: Chris's licence terms are different from other items here and as with any fan-arts stuff is for non commerical useage only. No large image avaliable.

Download from:
[42.6mb .zip] - Chris's Portfolio Page - site link

No large image available for this freebie.


M.S.T. Pack #1

This is the goodie mentioned in "Mr Sparkys Money Saving Tips & Freebies". It has 2 speed cameras (1 alternate), 2 types of full body airport security scanners and a set of tape barriers. Plus theres some very silly tips in the zip and large image.

Download [5.34mb .zip] - site link


Robo Nativity - Part 2

Heres the second part of the Robo Navity. This part features the JoBot, MaryBot and the BabyBot As usual check-out the sample large image and readme.

Download [5.34mb .zip] - site link


Robo Nativity - Part 1

Heres the 1st part of the Robo Navity. This part features the Nativity Base and the 3 Wise Mechs. Plus if you want an extra smile, please read the documentation in the zip.

Download [8.22mb .zip] - site link


RoboMod

The Robo Mod is a great fun little character who's packed with working features and details.

For all the into you need on this, check out the readme in the zipfile and the large image.

Download [3.22mb .zip] - site link


Exceedingly Silly Police Riot Gear

Control 99% of your poser people with this handy riot gear pack, including the CoppaHoppa, Beer Sprayer, Helmet, BB Launcher and Happy Gas cans. Also includes a classic 1960's style orange hoppa texture.

To see the model in all it's silliness, click the little piccy.

Download [2.79mb .zip] - site link



Scary Basement

Here's an incredibly detailed basement model for your scenes, perfect for halloween and horror, or even everyday stuff. Includes junk, show/hide sectional poses and a read me file with loads of useage tips.

To learn more about this great freebie, just click on the thumbnail.

Download [4.85mb .zip] - site link


SkySlicer

Inspired by the Skycutter from the TV cartoon show Thundercats, here is a small flying vehicle, with 1 texture set and a (starter) M3 rider pose.

Download [795K .zip] - site link


SculptiMons

8 fun little critters made with Sculptris. These are NOT poser ready models, but mapped OBJs. The idea is you import, add colourful shaders, postwork some eyes and have some creative silly fun!

Download [8.9mb .zip] - site link


Toon Boat

A fun cartoon style boat (PP2 poser prop) for your scenes. Includes 1 texture set (1024x1024 maps) and templates.

Thanks to France for suggesting this model!

Download [1.15 mb .zip] - site link


Quantitative Easing Machine

Inspired by a childhood board game, and watching too many Tom and Jerry cartoons, you can now solve the worlds economic problem with this incredibly silly mad machine.

Click on the thumbnail to see how this works.

Download [3.50 mb .zip] - site link


Haunted House

I'm pleased to announce that the amazing Haunted House freebie, complete with furniture, made for the Halloween contest at DreamSlayerGraphics is now avaliable to download directly from my store site.

Download [4.85mb .zip] - site link


Sparkys Spooky Toon Castle

A small fun 'toon style castle in 2 blood curdling flavours. Stone and cardboard (thanks to France for that idea!). Poser PP2 format. Designed for use as a back ground prop. 512x512 mapping.

Download [1.47 mb .zip] - site link


Busted Vehicle Addons

Created by Kastaway, here are some "bolt-ons" for which allows an artist to add damage, or to spherise, MrSparky's Heavy Duty Sci-fi truck, Overlander and Cog Bike freebie and VP's C55 aircraft.

IMPORTANT: This zip does NOT contain the original models or any external OBJ's. You'll need to install the freebie/products before using this.

Download [11.4 mb .zip] - site link


The Mystery Machine

From the classic cartoon series Scooby Doo, here's the gangs van. Poser .PP2 prop format with P4 based Materials, so should be OK in most 3d apps.

Presented here as another example of the technique I'm developing, that can convert most 2D images into 3D models.

Non commerical usage only.

UPDATED! - Now a figure with opening doors and turning spinning wheels!

Download [4.2mb .zip] - site link


1977 DeathStar Playset

The original version of this 3D freebie was made of cardboard with a plastic gun. It was sold for a very short time in Europe (by Meccano), OZ and NZ (TolToys), Canada (Kenner) and in the UK (Palitoy), but never the USA.

Over time it's become a Holy Grail amongst Star Wars collectors and an original will easily sell for over 500 quid (800 US Dollars).

Suitable for use in most 3d programmes, this fan-arts freebie is presented as an example of a new technique I'm developing that can convert most 2D images into 3D models. Obviously non commerical usage only

Download [4.2mb .zip] - site link


Vendo

A detailed vending machine (from my Ruined City 2 product) in 3 flavours. Clean, Busted and Busted V2. Plus bonus HHG2G "Nutrimatic Drinks Dispenser" texture set, which is unique to this version.

Please view the large image to see the options in this set.

Download [2.89mb .zip] - site link


SE Vorg

The SE Vorg has been one of my most popular products to date, surviving at rendo for over 5 years. So I think it's time to release this one as a freebie to say thanks to everyone for supporting my work.

Note: This one requires Robat's Cyber figure. Which is NOT included.

Download [3.32mb .zip] - site link


Retro Racer

The Retro Racer is a small fun flying car with a nostalgic feel and 2 starter colour sets. With 2 seats and fully modelled controls, theres enough room in the rear for a servo droid and some suitcases.

For best results read the readme first!

Download [1.22mb .zip] - site link


Reflective Safety Stripes

Created by Thalek, this is a set of Reflective safety stripes for the VP/PD jumpsuits.

It uses BagginsBill "lame" shader with modifications by EnglishBob.

Poser 6 and Higher only.

No large image available for this freebie.

Download [7.13k .zip] - site link


Cracked Eggs

This totally silly pack contains...



EggolfHitler
Eggsyanna Jones
Neil Eggstrong

King Eggward
Skin Egg
John Leggon & YolkoOno


Theres also an "ExplodeEggED" busted egg and these fun accessories, which are suitable for use with other toon figures



Eggsterestial Space helmet
Royal Crown
Eggxplorers Belt

Yolko Ono Hair
John Leggon Glasses




Plus texture templates for creating your own egg people.

Download [3.63mb .zip]


Pakastani Mansion Building

Based on photos and drawings published in newpapers, this is a mansion style building as found in Pakastain.

The model comes in 3 flavours, each one is a poser prop. Full details in the read me.

Download [3.45mb .zip] - site link


NiNak Bots

This freebie was originally commissoned by PReeder, who's kindly agreed to let these be shared.

These small non-working prop bots are handy for filling sci-fi scenes.

No large image available for this freebie.

Download [1.72mb .zip]


Xmas Boots

Inspired by the new and the orignal classic movies, heres a Tron like car. Please read the read me file to get the best results.

Fed up with falling over in the snow ? Get these stylish and safe boots.

To see the boots in action, click the thumbnail, and for the best results read the full instructions in the readme file.

Download [1.83mb .zip]


Tron Inspired Car

Inspired by the new and the orignal classic movies, heres a Tron like car. Please read the read me file to get the best results.

Click the thumbnail to see what this can do.

Download [1.67mb .zip]


Toon Daisy

Raise a smile with this small, but fun Poser prop.

No large image available for this freebie.

Download [762k .zip]


Fire Rocket

A little addon for the minion, a fun little rocketship. Just light the blue touchpaper and let them fly!

No large image available for this freebie.
Download [2.17mb zip]


Minion

Inspired by the movie Dispicable Me, and rigged by Donnena, heres a minion for you. This is a Fan Arts freebie, so non commerical use only.

No large image available for this freebie.

Download [742k zip]


Zombie Zapper

A Poser prop gun with video screen and 3 buttons. Also includes templates so you can make your own screen textures.

Click on the thumbnail to see the modelled detailed.

Download [885k .zip]


French Village

5 building props with high quality textures and modelled add-ons such as drain pipes and cables. All parented to a large ground base with telephone pole and warped pavements.

Click on the thumbnail to see the details in this realistic free set.
Please refer to the read me as this contains additional information.

Download [6mb .zip]


My Map's for the Overlander

This file contains .BMP texture maps, MAT pose and instructions which allows you to easily create your own texture set for "Mr Sparky's Overlander - Modular Sci-Fi Truck". This set will NOT work on any other model and you MUST have The overlander model.

No large image available for this freebie.

Download [2.20mb .zip]


Death Racer

Inspired by the 2008 movie Death Race here is the Death Racer.

Please refer to the read me for additional information.




Download [2.5mb .zip]


Distance Simulation Unit For Vue 4 and higher

The DSU is a prop and freebie .PDF tutorial designed to enable Vue Artists to use their own photographs within Vue.

View the sample image to see what's possible.

Download [1.9mb .zip]
Looking for the Poser version of the DSU? Click here


Simple Household Boiler

Simple household boiler, made for Ralph in the daz forums. Contains 1 figure, 1 white texture set and 2 mat poses [White and MY MAP's].

No large image available for this freebie.
This file has been lost, if you have a copy please let me know.





US Pick Up Truck

A pickup with various working features including opening doors and tailgate. The bonnet can open to display a mid detailed engine with modelled details such as wires, battery water bottle and VIN Plate. The interior contains 2 seats, console and a steering wheel that can turn. Plus all 4 wheels can rotate and the front 2 wheels can turn.

THIS MODEL IS RELEASED UNDER GPL LICENCE AND HAS SOME TECHNICAL ISSUES, SO PLEASE READ THE README FILE BEFORE USING

Download [3.39mb .zip]



Gift Bag

Very basic gift bag created in response to thread at daz forums. No morphs. 2 textures. Model provided as is under GPL licence.

Plus there's also a MY MAPS MAT pose - an easy to use system which allows you to easily make your own textures.

No large image available for this freebie.
This file has been lost, if you have a copy please let me know.



DudBot

Inspired by the tutorial by Johnny Duddle in the March 2009 issue of Computer Arts Projects, here is a fun 1950's styled sci-fi robot called the DudBot.

Comes with loads of fun features, just read the readme to find out more.

Download [4.3mb .zip]


<!end>